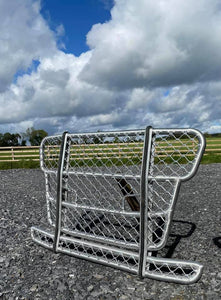 Looking to make the ultimate Impression? Introducing MRK Bullbars!!
Anyone who has been looking at the 5thwheel will by now have spotted our selection of MRK Bullbars. Here's what you need to know!!
Bullbars are a serious contender in the competition for ultimate truck accessory. Originally used to protect vehicles from large animals, bullbars are now a mainstay in the truckstyling and truck accessory market. Bullbars offer you a stylish and practical addition to your vehicle and MRK Bullbars offer you all this at an excellent price!
The 5th Wheel Truckstyling has joined with MRK Bullbars from the Netherlands to offer you exclusive access to their high quality; high style bulbar range. MRK Bullbars are constructed from high quality aluminium welded to perfection. The guys at MRK are as passionate about Bullbars as it gets. Always striving to design the best products possible, their Bullbars come fully certified with spotlight mounting points and correct brackets for fitting. With styles to suit a range of different makes and models of lorries MRK Bullbars have everything you need in a bulbar.  
Coming in at an excellent price these MRK Bullbars offer you a stylish alternative to what is currently available on the Irish market at a highly competitive price. With a range in stock and the capacity to order in according to your need you will not be disappointed when you come looking for your MRK Bullbar.
For inspiration see the full gallery of MRK Bullbars on the5thheel.ie.
For more information contact us directly today
---