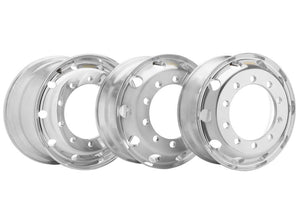 Dare to stand out from the crowd with Next Generation Wheels
Here at the 5th Wheel Truckstyling we are the exclusive Irish Distributor for Next Generation Wheels. Here is what you need to know about why these are the next wheels you'll want to buy. 
Next Generation Wheels is German based a pan-European wholesaler and service provider, supplying forged aluminum wheels for commercial vehicles. NGW pride themselves on supplying high quality affordable alumimum wheels which meet the high European standards we expect while offering an alternative to the usual wheel brands with which you are well familiar. 
Here at the 5th Wheel we believe that hauliers and drivers should have access to stylish; functional and affordable high quality alternatives when looking to at all aspects of their vehicle. Next Generation Wheels fits this brief perfectly.
NGW wheels are forged from a single type-specific aluminum block, thus guaranteeing the highest level of strength for the wheel.
The 5th Wheel in partnership with NGW offer a large selection from 17.5 "| 19.5" | 22.5 "in three different surfaces from Edition ONE Bright to Edition TWO Polished to Edition THREE brushed optics.
Certification of the production plant with ISO and IATF means that high quality standards are maintained and set.
PERFORMANCE & QUALITY
Mounted valve | 5 year warranty  

Optimized design | TÜV Germany

Tested quality through high test standards   

High quality standard for vehicle construction  

Highest gloss effect | Up to 5,000 kg load capacity 

Corrosion Resistant | Safe and robust

Reduces tire wear

Weight Loss | Less CO2 emissions     

Reduces fuel consumption | Reduces expense
These wheels are everything you are looking for in an alloy; they will meet your functional needs; they offer you an alternative to the usual suspects and they will look top class on your vehicle.
Contact us today to get your
NGW Wheels.
---